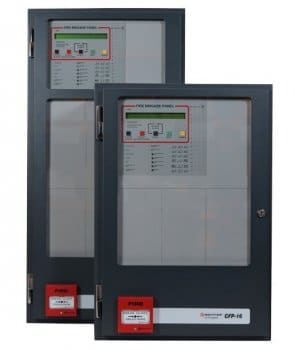 CFP-16
8 or 16 zone Conventional Fire Alarm Control Panel
With usability as a key focus for development and utilizing industry leading manufacturing and testing practices; the CFP-16 will provide an easy to use and powerful detection and control system for all conventional detection applications.
The standard panel is equipped with 8 zones but may be extended to 16 Zones by the addition of an 8 Zone expansion module.
CFP-16 is extremely flexible and can be programmed to meet the demands of a wide variety of building types.
8 Zones – expandable to 16 Zones
80 character LCD display providing a simple user friendly interface
24 character programmable zone descriptor
Zones can be configured for a range of different device type functions
Outputs may be programmed for different functional and cause & effect requirements
Compact 5.6 or 11.7 Amp system power supply and charger
Optional programmable OWS with control, display and microphone module
Optional 8 way programmable relay modules
Two cabinet sizes 650 mm and 900 mm
Remote LED mimic available
CFP-16/650-8Z-PS5: 8 zones fitted with NPS-5 in CAB650
CFP-16/650-8Z-PS11:: 8 zones fitted with NPS-11 in CAB650
CFP-16/650-8Z-PS5-DA30: 8 zones fitted with NPS-5 and DA-30 OWS in CAB650
CFP-16/650-8Z-PS11-DA30: 8 zones fitted with NPS-11 and DA-30 OWS in CAB650
CFP-16/650-8Z-PS5-DA60: 8 zones fitted with NPS-5 and DA-60 OWS in CAB650
CFP-16/650-8Z-PS11-DA60: 8 zones fitted with NPS-11 and DA-60 OWS in CAB650
CFP-16/650-8Z-PS11-DA120: 8 zones fitted with NPS-11 PSU and DA-120 OWS in CAB650
CFP-16/900-8Z-PS11: 8 zones fitted with NPS-11 in CAB900
CFP-16/900-8Z-PS11-DA30: 8 zones fitted with NPS-11 and DA-30 OWS in CAB900
CFP-16/650-8Z-PS11-DA60: 8 zones fitted with NPS-11 and DA-60 OWS in CAB900
CFP-16/650-8Z-PS11-DA120: 8 zones fitted with NPS-11 PSU and DA-120 OWS in CAB900
AS7240.2:2004 & AS7240.4:2004.
AS4428.3:2010
Activfire certificate # afp-2886