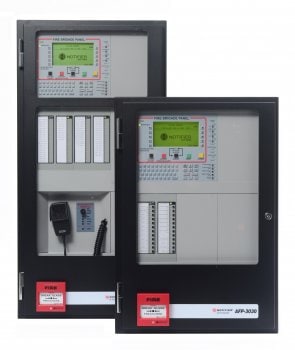 Onyx AFP-3030
Onyx™ AFP-3030 is an intelligent Fire Alarm Control Panel (FACP) with a flexible and scaleable architecture which makes it suitable for virtually any application including large scale networked facilities. Fire emergency detection and evacuation are extremely critical to life safety, and the AFP-3030 is ideally suited for these applications.
One to ten addressable SLC loops
Supports FlashScan with up to 159 detectors and 159 modules per SLC, 318 devices per loop / 3,180 per FACP (or network node)
Support Noti-Fire-Net up to 102 nodes and High Speed Noti-Fire-Net up to 200 nodes
Reduces unwanted alarms with features such as Alarm Delay Facility, Drift Compensation and Co-Operative Detection
Field programmable with QWERTY keypad
Support for AS1668.1 compliant smoke control with SCS Series smoke control system
VeriFire Tools programming, diagnostic and reporting tools
Compatible upgrade for AFP-2800 and AFP-1010/2020
36 Month Warranty
Login required for access to Manuals, VeriFire Tools and other content. Request Access
Onyx AFP-3030 is available in custom configurations. Please contact us for ordering information.
AS7240.2:2004 & AS7240.4:2004.
AS4428.3:2010
ActivFire certificate #afp-2973