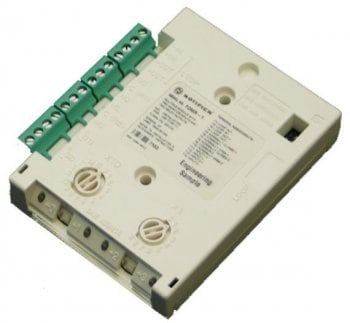 FDMR-1
NOTIFIER intelligent addressable Dual Monitor and Dual Relay Module.
This addressable module is intended for use in intelligent, two wire loops. It includes two individual relay control modules and two monitor modules. Each relay output is intended for Form C switching applications which do not require wiring supervision for the load circuit. Each monitor input provides an interface between a fire alarm control panel and one or more normally open contact-type devices.
Each input and output is individually addressed by the FIre Alarm Control Panel making it ideal for interfacing to Mechanical Services and Sprinkler systems.
FDMR-1 supports FlashScan protocol and is compatible with Onyx AFP-3030 and AFP-2800 fire alarm control panels. It is also backward compatible to Notifier CLIP systems.
Low-profile high-density design, suitable for installation into mechanical switch-boards
DIN rail, surface or panel mount options
up to one Monitor input and one Relay output can be disabled if not used
Addresses can be viewed and changed without electronic programmers
Rotary, decimal addressing (1-99 on CLIP systems, 1-159 on FlashScan systems)
FDMR-1: FlashScan dual-monitor, dual relay module