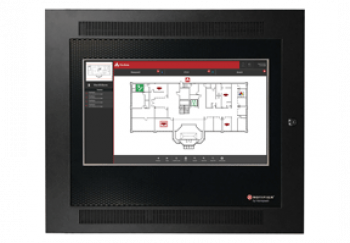 ONYX FirstVision
ONYX FirstVision™ displays critical information on the origin and spread of a fire for single or multi-building sites, allowing firefighters to quickly address the situation.
ONYX FirstVision™ is a revolutionary way finding navigational tool for fire fighters and other emergency responders utilizing a 22" touch screen interface to graphically display critical information on the origin andspread of a fire; allowing fire fighters to quickly locate and extinguish the fire.
22" LCD touchscreen
Intuitive graphical interface with automatic navigation to emergency event location
Time sequence display of activated detectors to track event progression
Interfaces to ONYX® Series panels or NOTI-FIRE-NET (standard or high-speed) through NFN Gateway over Ethernet
Displays critical information on water supplies, gas, power and HVAC shutoffs along with chemical and physical hazards in the building
ONYX-FV: Onyx Firstvision 22"