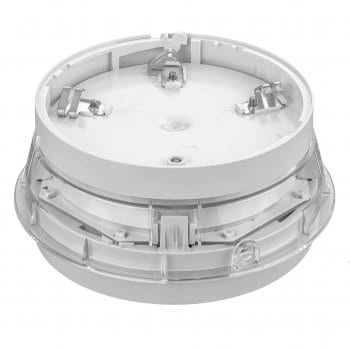 NFX VAD Series Sounder Beacon base
NFX VAD-Series AS ISO 7240.23 Detector Base Sounder Beacon is a high quality loop powered device intended to alert building occupants of a potential fire.
Approved to meet AS ISO 7240.23, the standard for Visual Alarm Devices, it utilizes the B501AP base and integrates seamlessly with intelligent detectors. When triggered by the fire panel, its powerful sounder and intense beacon give a visible and audible warning. A choice of sound output levels andtones make the device suitable for a wide variety of applications.
The maximum number of addresses available is 99 as these devices operate in CLIP mode.
Certified to AS ISO 7240.3 for sounders and AS ISO 7240.23 for VAD
Automatic synchronisation of sound and beacon flash
In-built loop isolator
Simplified installation through large cable access and rear/surface cable entries
Excellent sound output and horn profile with 32 tone options
Reduced installation errors from positive "poke yoke" engagement and anti-tamper features
Low current draw allows more devices to be included in the Loop
Compatible with Onyx AFP-3030 and AFP-2800
DSS-PC-I02: Notifier CLIP pure white Sounder Beacon Base, red flash, clear lens,with Isolator
B501-AP: AV-device base, pure white for Intelligent AV range
WPW: Waterproof AV-device base, pure white for Intelligent AV range
AS ISO 7240.3:2014; SAI Global certificate # SMK40640-4
AS ISO 7240.23:2014 O Category; SAI Global certificate # SMK40640-4