Wednesday, 29 July 2020
Connectivity, Remote Access and the Fire Industry
Fire Alarms and Cloud connectivity? Not too long ago these were different worlds unheard of in the same sentence!
Its 2020, so why not? In today's world we use remote connectivity and connected services in almost all aspects of our personal and working lives, why wouldn't we want to have remote visibility to our workplaces? In the face of changing winds, some build walls while some build windmills. What have you decided to build?
The new normal is all about finding ways of enabling your business to be more profitable, productive and efficient. That connectivity and visibility is the need of the hour is especially true for a critical industry such as fire protection.
Just imagine a scenario where real time details of significant events such as fire, faults/troubles and disablements are available for you off site, anywhere, anytime. With Honeywell's latest Software Solution for the Fire detection industry, they have brought all those events from your sites and much more straight to your mobiles and desktops.
For any company in this highly-Regulated Fire Industry, compliance is of utmost importance. Staying compliant is not just tedious hours of manual report filing anymore. With connectivity combined with intelligence, Honeywell's Connected Life Safety Services also provides insight into progress of maintenance activities and access to regulatory and non-regulatory reports at the touch of a button.
Organizations across the fire safety industry are under constant pressure to achieve more with fewer resources whilst maintaining the highest levels of safety, efficiency and productivity.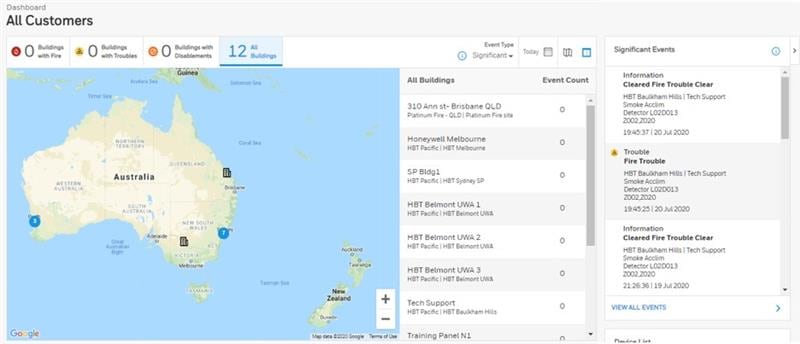 Honeywell Connected Life Safety Services (CLSS) dashboard

Honeywell Connected Life Safety Services (CLSS) event lists
Discover new possibilities with Honeywell Connected Life Safety Services (CLSS) today. See fire.honeywell.com